Can You Install a Temporary Fence in Winter?
POSTED ON November 10, 2022 | BY Zters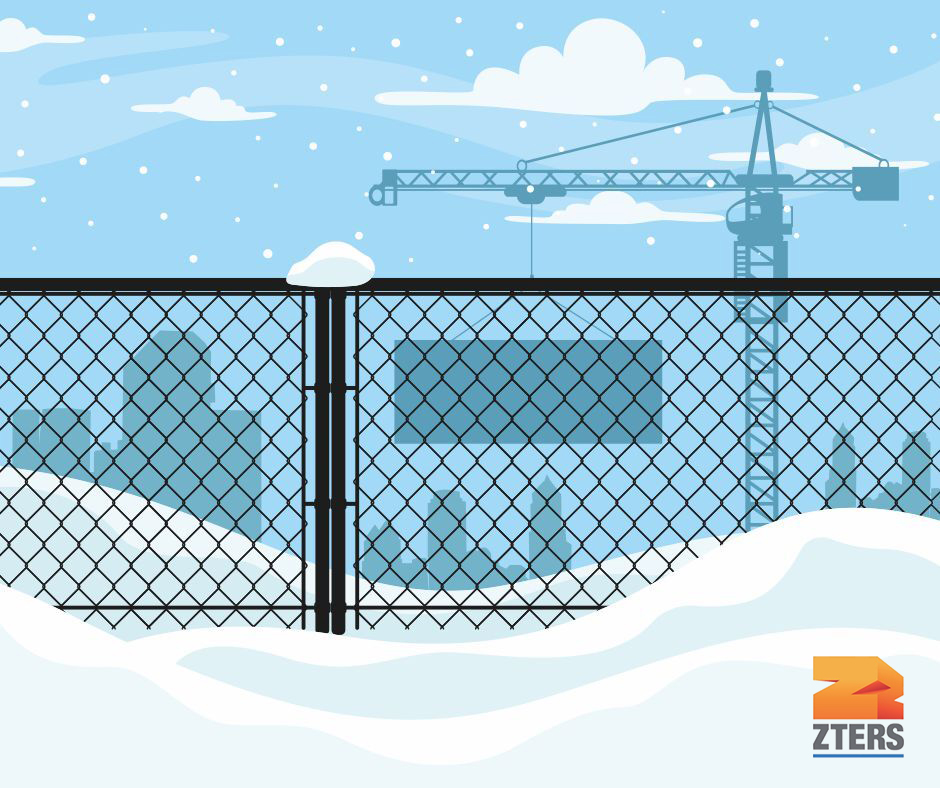 As the temperature drops, ice forms, and the gloves come out, most outdoor construction and renovation projects come to a standstill. While it's true that most projects pause when cold weather conditions hinder progress, temporary fencing in winter is a must to maintain security around a site.
At the same time, winter events are in full swing during the holiday season. Similar to outdoor concerts in the summer, outdoor events in the winter often require fencing to keep guests contained to certain areas and prevent theft during off hours.
So can temporary fencing be installed in winter? Absolutely. A temporary fence rental is a year-round solution for securing a construction site, keeping event guests within boundaries, and preventing theft on any site.
Here's how installing temporary fencing in winter works, how to prepare for installation, and why it matters.
How Installing Temporary Fencing in Winter Works
Most people are familiar with post-driven fences where fencing is installed directly into the ground with fence posts typically inserted in concrete. Of the different types of temporary fence rentals, this sturdy fencing option is great for long-term construction projects, but it's not entirely feasible in the winter due to icy or snow-covered surfaces.
Panel installation is a more winter-friendly fencing alternative. Fencing panels are weighted and hooked together, creating a less permanent but still reliable fencing system that doesn't require in-ground installation. It's quick to set up and can be moved if needed.
For extra sturdiness (especially in high winds), you can order sandbags or concrete weights to anchor the fence securely in place. ZTERS also offers privacy and wind screens to prevent looky-loos from disturbing your site.
Preparing for a Winter Fencing Installation
We always recommend booking your rental well in advance to ensure inventory is available. In some cases, a short-notice delivery is possible, but you'll need to make sure you've taken the necessary steps to streamline installation.
1. Determine How Much Fencing You Need
Before securing your rental, it helps to calculate how much temporary fencing you need so you aren't left with excess fencing or on the flipside, short on panels.
For events, consider how many people will be in attendance and what sorts of activities will be available onsite. It's always better to aim higher so that there's ample space for guests.
For construction sites, although there will likely not be personnel on-site during the winter months, you may wish to extend your rental as the project starts up again. Keep this in mind when estimating how much fencing you'll need to keep the site and your equipment secure.
2. Clear a Perimeter for Fencing and Delivery
Once you know roughly where your fencing will go, establish the boundary by setting up cones or caution tape to mark where the fence will go. This may require getting creative if snow makes marking the ground difficult.
To ensure that the temporary fencing withstands the winter weather, clear a few feet (at least four) of space for the bases to sit. Additionally, a delivery vehicle will need to be able to drive up to your site to unload the fencing. Make sure that there is an ample driveway to accommodate a large hauler.
3. Add Weights and Screens to Your Rental
While optional, weights including sandbags or concrete weights can maximize the fencing's sturdiness, especially in the face of high winds. Likewise, wind screens can reduce wind's strength within the fencing. This can improve guests' experience at events and doubles as a layer of privacy.
The Importance of Installing Temporary Fencing in Winter
Installing temporary fences in winter is not only possible, it's typically essential. In some cases, temporary fencing OSHA regulations make it mandatory for construction sites. Temporary fencing helps keep construction sites secure and theft-free while workers hold out for milder weather.
During holiday season events, temporary fencing helps with crowd control and can make the overall event experience more enjoyable for attendees. Get a free quote for a winter temporary fencing installation by calling a ZTERS specialist!