ZTERS Named to Inc. 5000 Fastest-Growing Companies List for Fifth Year
POSTED ON August 28, 2023 | BY Zters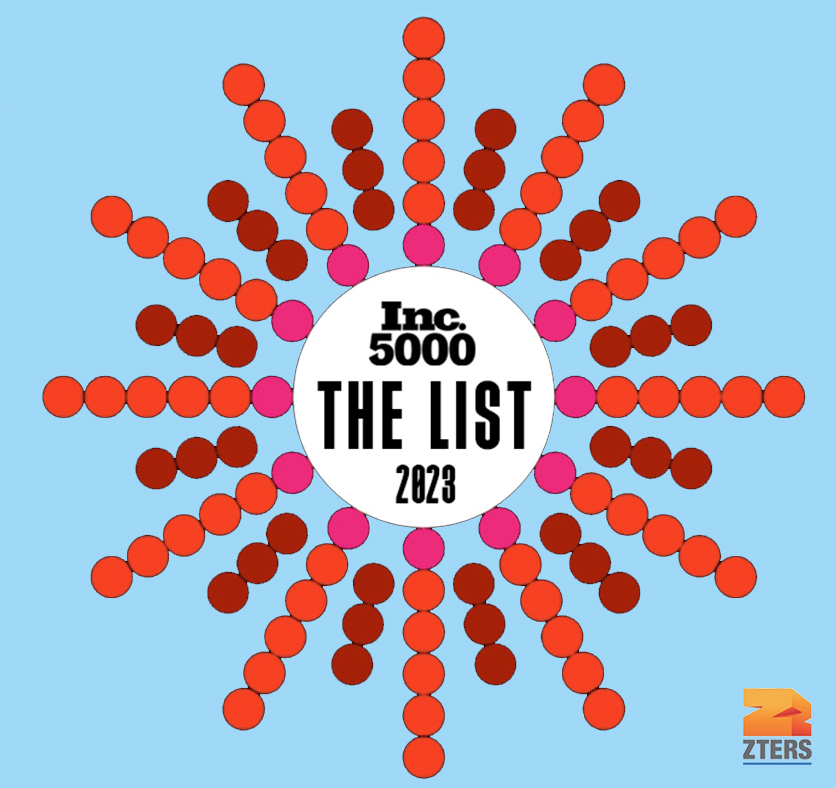 For the fifth year running, ZTERS has been named to the Inc. 5000 Fastest-Growing Privately Owned Companies list for 2023.
"We're beyond pleased to be included on the list this year, and we are continuing to grow and add jobs," said Chad Farley, President. "Our employees have been key to the company's continued growth. This achievement is a testament to their hard work, and we look forward to more success in the years to come".
ZTERS understands that a company's success is intricately tied to the well-being and satisfaction of its employees. By fostering a supportive and dynamic work environment, ZTERS has attracted top talent while also nurturing a culture of collaboration and innovation. This culture has been instrumental in driving our growth trajectory year after year.
"It's the collective effort, dedication, and shared vision of the entire team that has propelled ZTERS to its fifth consecutive year on the Inc. 5000 list," said ZTERS President of Operations Shay Sims.
Earning a place on the Inc. 5000 list for five years in a row is a remarkable achievement that underscores our ability to not only navigate challenges but also turn them into opportunities for growth. It's a testament to our adaptability, resilience, and commitment to pushing boundaries.
As ZTERS looks to the future, the journey continues. With each year, new goals are set, new milestones are achieved, and the impact on communities and industries grows stronger. Our dedication to excellence remains unwavering, driven by a shared passion to make a difference in the world.
ZTERS believes in investing in team members. Many of our senior employees have been with us since the beginning, and we're committed to helping people develop their careers. This aspect aligns with our Values.
Fair
Fairness is one of our core values. It involves fairness towards employees, customers, and vendors. That means that as we grow:
We are constantly evaluating how we can improve the workplace and pass on the success
We do the right thing by our customers even when it means passing on short-term profit
We treat our vendors like we would like to be treated
Simple
If it doesn't make life easier, we don't do it. We want to reduce the complexity of doing business. That means simple tools to accomplish work, simple pricing so everyone understands what they will be charged, and simply amazing service
Reliable
We do what we say we are going to do, day in and day out. ZTERS reliably delivers on an employee focused company culture. ZTERS continually works to improve the customer experience so we deliver what we say we will when we say we will do it. When things go wrong, you can count on ZTERS to own it.
"Building one of the fastest-growing companies in America in any year is a remarkable achievement. Building one in the crisis we've lived through is just plain amazing. This kind of accomplishment comes with hard work, smart pivots, great leadership, and the help of a whole lot of people," said Scott Omelianuk, editor-in-chief of Inc.
Complete results of the Inc. 5000, including company profiles and an interactive database that can be sorted by industry, region, and other criteria, can be found here. The top 500 companies are also being featured in the September issue of Inc., available on newsstands on August 20.
About ZTERS
ZTERS has been named one of Inc. 5000's Fastest-Growing Companies for five years running and has twice been named a Houston Chronicle Best Workplace. Since 2009, the company has provided top-rated site solutions, including dumpsters, portable toilets, temporary fencing, storage containers, and portable offices to construction sites and outdoor events. They also offer commercial waste services to warehouses, industrial, retail, and restaurant facilities. With a customer-first approach, every project has a dedicated account manager who provides upfront pricing with no hidden fees.