5 Commercial Renovation Trends for 2021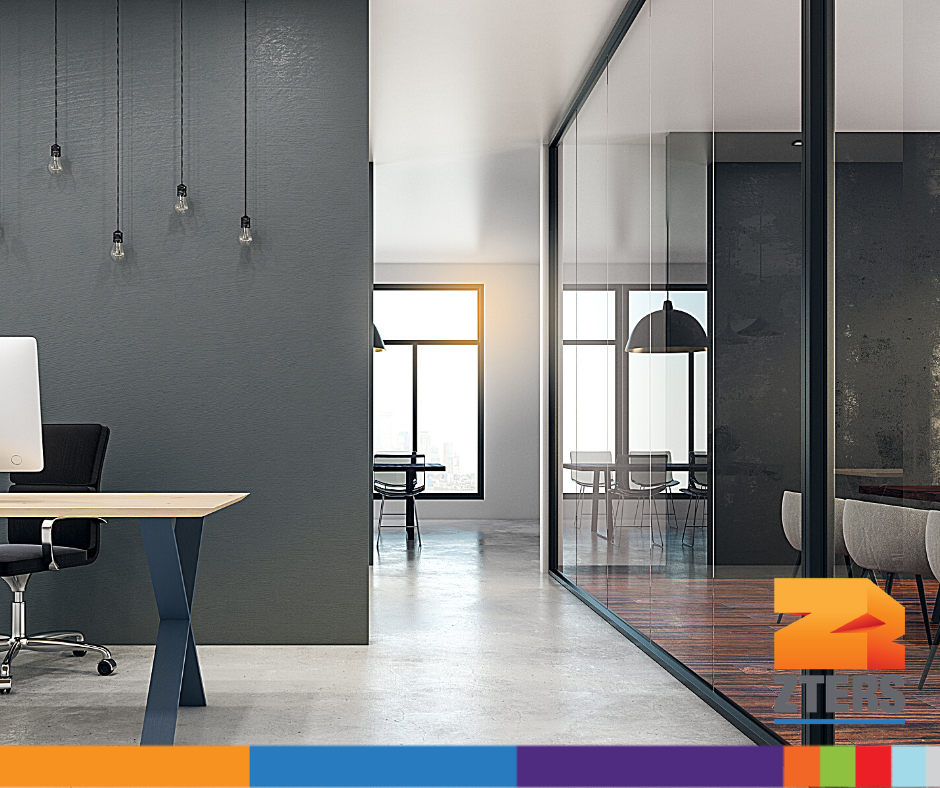 COVID-19 changed the way everyone does business, and commercial renovation trends are changing to keep up with workplace changes. As of June 2020, an estimated 42 percent of the labor force was working from home. In 2021, many businesses are expected to incorporate hybrid working models to keep people at home. And some studies suggest up to 70% of the workforce may want to return to the office for the majority of their week. As more business owners and companies are faced with a new normal, property owners are planning renovations and asking themselves: What will the office of the future look like?
1. Bathrooms for the Modern Era
We always knew that clean bathrooms were an important feature in commercial buildings. But after battling a global pandemic, sanitary bathrooms have become more important than ever. Buildings that haven't yet made the switch to touchless toilets and sink faucets should consider making these updates. Modern conveniences like these help put people at ease, and it helps people avoid contact with surfaces that could lead to illnesses.
2. Touchless Technology
Touchless features aren't just for bathrooms. This technology has been gaining traction in other parts of the building as well, including doors, elevators and even coffee makers. Imagine a cappuccino machine that syncs to an app and allows anyone to use the machine without touching its surface. Or an elevator with an infrared panel that senses the floor that your finger is hovering over.
This might sound expensive to implement, but the demand for these technologies has dramatically increased in recent years. Watch technology companies for updates on touchless devices as demand rises and the technology becomes more affordable.
3. Collaborative Spaces
While it's true that office work has changed in 2020, it's also true that hybrid workplaces have been around for years. The hybrid office concept gained steam even before the pandemic hit. For several years, companies have been shifting toward a more collaborative workspace. Employees have been splitting their time between tasks at the office and tasks at home. In fact, CNBC predicted offices will become "elaborate conference centers." Instead of traditional office layouts, tenants are looking for collaboration rooms combined with privacy booths for independent tasks.
What does this mean in practice? Cubicles will be removed and replaced with conference rooms and collaborative spaces. Around the perimeter, scattered in corners and in convenient locations, you'll find individual workstations, available on a first-come, first-serve basis.
4. A Reimagined Footprint
Many companies realized in 2020 that they may not need very much office space. They could save a great deal of money by reducing their office footprint. And why shouldn't they cut back their office space, with all their employees working from home? 
Commercial property owners followed suit and are now re-thinking their commercial office spaces. Footprints are changing. Occupants are asking for new types of space. And property owners are striving to create more flexible spaces. Everyone is looking for the flexibility to divide, sub-divide, and lease spaces in creative ways.
5. HVAC Investments
Fresh air is vital for improving indoor air quality and maintaining the health of everyone in the building. Contractors have known this for years. And now CREs see the importance of installing HVAC systems that provide the maximum number of air changes per hour. Companies are more aware of air circulation and filtration, and this translates to what they expect from their office buildings. Property owners are already evaluating HVAC upgrades that promote health and wellness among their buildings' occupants.
COVID-19 has heavily influenced commercial renovation trends in 2021. If you're planning, or working on, a major commercial renovation project, give us a call. We can bundle all your jobsite services – from portable toilets to storage to dumpsters – in one, easy call.