Ask Angela: Do we really need temporary fencing?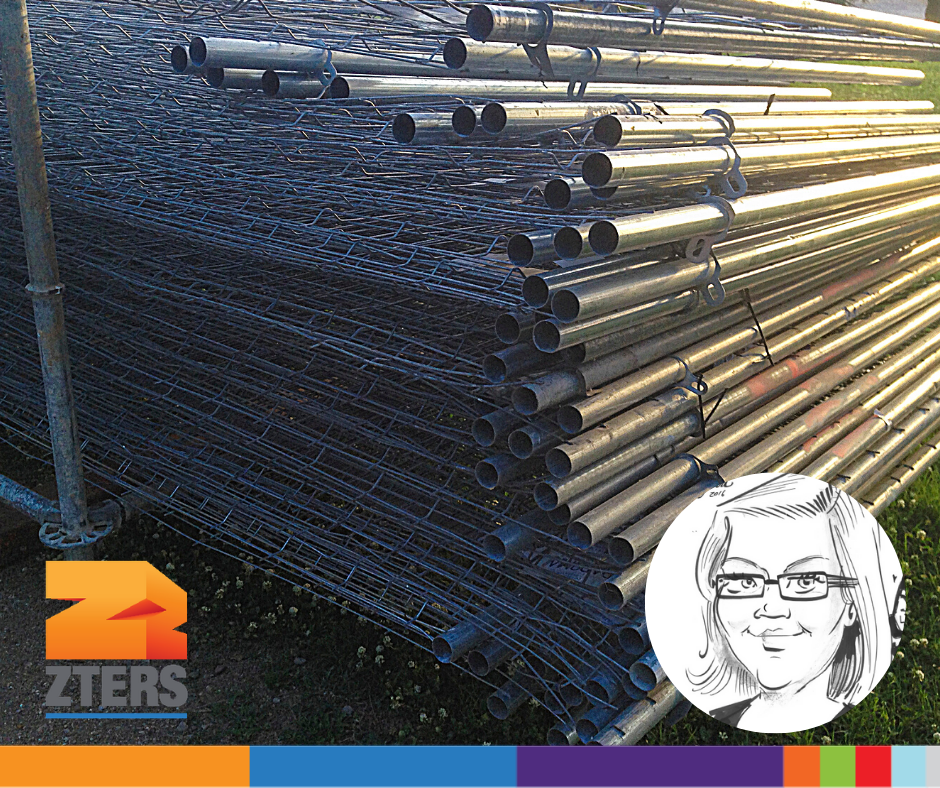 Dear Angela, we're on the fence (ha-ha) about renting temporary fencing for our job site. It seems like a big expense compared to whatever fines we might get from our city and county. Why does fencing seem so expensive, and what goes into temporary fencing rates?
Hey there. Thanks for asking this question, because it's something we hear a lot. Especially with construction costs so high lately. The fact is, even though we don't recommend this, a lot of crews think they'll save money by taking their chances and not securing their site with fencing. There are a couple of reasons we think this is a big mistake. Not least of which is it can be a safety hazard to have an open site, hence the OSHA construction temporary fence regulations.
So, here are the factors that go into fencing prices, and why we recommend you always fence your construction site.
Price of Temporary Fencing
First, let's talk about pricing. One place a lot of people go wrong is not knowing how many linear feet you actually need. We developed a temporary fencing calculator to help you figure out exactly how much you'll need, so you're not overpaying for too much fencing. Remember to factor in any vehicle or personnel gates (our calculator helps you do that).
The price of fencing includes things most people don't consider, such as materials and labor. Don't underestimate the amount of time and labor it'll take to install a temporary fence. In some areas fence installation is regulated and must be performed by union workers. And if you have a large worksite, you may be dealing with grade changes, poor soil, areas that flood, and other circumstances that add to the installation cost. If your site requires post-driven fencing, trenching, or erosion control measures, that's going to cost more than a simple panel installation. (Check out our post on the types of temporary fencing to learn more.)
Temporary Fences Use Durable Materials
For materials, this includes the cost of things like erosion control and screening. This is going to vary by site but expect to have at least some materials costs added to the final bill. Also keep in mind there may be costs associated with installing post fencing in asphalt or concrete and the repair of those materials when the fencing is removed. Don't skimp on accessories like safety caps on erosion control installations. Installing safety caps can help prevent injuries if someone trips and falls onto the rebar used in these fencing installations.
This might seem like a big expense, but safety is worth the price tag. This is the other main reason you need temporary fencing: safety. Imagine if teenagers decide to check out your job site after hours and someone falls or gets seriously injured. This is unfortunate for the injured person, and it's also a liability for the company. Anyone wandering onto your worksite creates the possibility for injury. Why take that chance?
Temporary Fencing Keeps People Safe
There's also crew safety. You can use fencing to block off dangerous areas, such as trenches or live electrical areas. Fencing off hazardous areas keeps your crew safe. Lack of fall protection measures are among OSHA's most cited violations every year and falling on construction sites are one of the top causes of workplace injuries. Temporary fencing keeps unauthorized crew away from hazards and helps keep crew members safe.   
Temporary Fencing Prevents Theft
A second reason to install fencing is theft prevention. When the cost of building materials goes up, so does the number of worksite thefts. Even if you have materials stored in locked storage containers, temporary fencing adds an extra layer of protection from theft.
We know there are people out there who think it's "safe" to skip the expense of temporary fencing, but all it takes is one crew member's fall, one unauthorized person getting hurt, or one major theft to wipe out any "savings" you may think you're getting. Not to mention the human factor of injuries. We can help you get the protection you need, plus any additional security measures, including barbed wire, to keep your site secure.