Explained: How Much Does It Cost to Rent a Porta Potty?
POSTED ON August 10, 2023 | BY Zters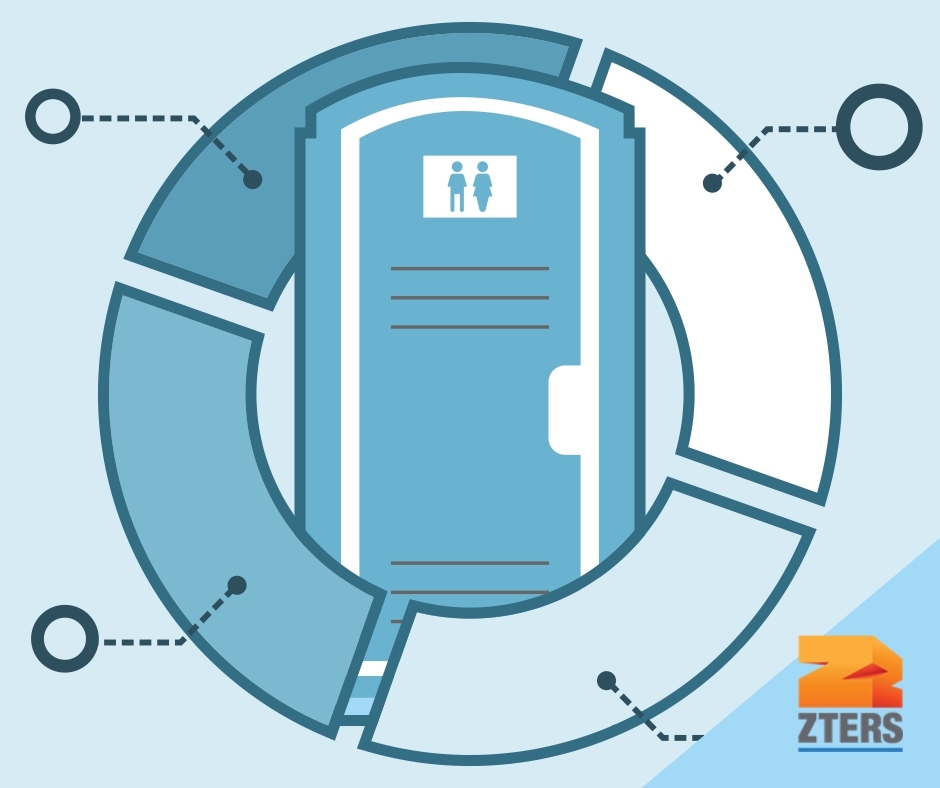 When planning events or construction projects, cost is always a crucial factor–making porta potty rental costs an important consideration. Not to mention, providing adequate onsite restroom facilities is a must. There are OSHA porta potty regulations in place for a good reason. 
That's why we're here to offer a transparent explanation of the different elements that influence how much it costs to rent a porta potty.
Drawing from our decades of industry experience, ZTERS helps you make an informed decision for your next event or construction project. For a custom portable toilet solution tailored to your unique needs, get in touch with a ZTERS expert.
What goes into porta potty costs?
Keep in mind that different porta potty rental companies may incorporate different factors into their costs. ZTERS always prioritizes transparency and fairness in our pricing. We've also debunked some common porta potty myths and created a calculator to help you determine how many porta potties you need on site–all in an effort to keep you well-informed.
The following variables are the main determinants for portable toilet costs:
Type of Porta Potty
There are various types of porta potties available, each with different features and levels of comfort. Different features can include:
It goes without saying that standard units are generally more affordable, while luxury or VIP units with additional amenities will come at a higher cost. We'll look at costs by unit type later.
Location
Not only does your distance from the hauler site play into porta potty costs, but so can local fuel prices. Additionally, it's important to ensure that your site is easily accessible and you have a space prepared for the porta potties.
We understand that hiccups during delivery can happen. We encourage you to get in touch to discuss your site specifics and avoid any additional costs you may incur based on the condition of your site.
Seasonality
Supply and demand fluctuates at different times of the year. As porta potties for outdoor weddings rise in popularity, there can often be a shortage. If you anticipate needing a porta potty during the summer or fall months, we recommend booking well in advance.
Winterization
When the temperature drops below freezing for more than one day, portable toilets are in danger of freezing and causing damage and potentially a biohazard if the tank bursts.
Portable toilet winterization helps avoid this. Winerization fees will be factored into the overall porta potty rental cost and is typically done on a weekly basis. So you can anticipate seeing a $10-$20 fee per billing cycle.
Frequency of Service
As you can imagine, portable toilets need to be cleaned and emptied regularly. The frequency of service necessary will depend on a few factors such as the number of people on your site and the rental duration. Most long-term units are serviced weekly, unless arrangements have been made for more frequent cleanings.
Additional Porta Potty Costs to Consider
Rush/After-Hours Deliveries
We recognize that sometimes a porta potty delivery after business hours is needed. We also see many requests for rush deliveries and do our best to accommodate; however these types of deliveries aren't always guaranteed and will incur surcharges. It's always best to book well in advance and coordinate a convenient delivery window with your account manager.
Add-Ons
To enhance your porta potty rental, you may want to consider adding on products like handwashing stations or portable hand sanitizer stations. They can make for a more sanitary restroom experience that event attendees or onsite construction workers will appreciate.
Porta Potty Cost by Unit Type
Like we mentioned above, the cost to rent a porta potty will depend on the unit type among other factors. We invite you to browse our product catalog to see the wide selection of units available. The following are common units and their estimated price range.
These are general ranges based on past deliveries; however, every porta potty rental is unique. For a more precise estimate, give us a call.
How much is it to rent a porta potty near me?
As with any site service, price can vary depending on location. ZTERS has dozens of local portable toilet rental pages to give you a sense of what costs and availability look like in your area. Whether you're looking for porta potties in Chicago, Pittsburgh, Fort Worth, or any other city nationwide, we have a solution for you.
There's a reason why more than 36,000 companies across the country have trusted ZTERS with their temporary site service needs. We can help find you a portable toilet solution that aligns with your budget and requirements. Even more, we can bundle all your site services under one easy-to-read invoice.
Give us a call today to secure your rental.