What Size Dumpster Do I Need?
POSTED ON September 6, 2023 | BY Zters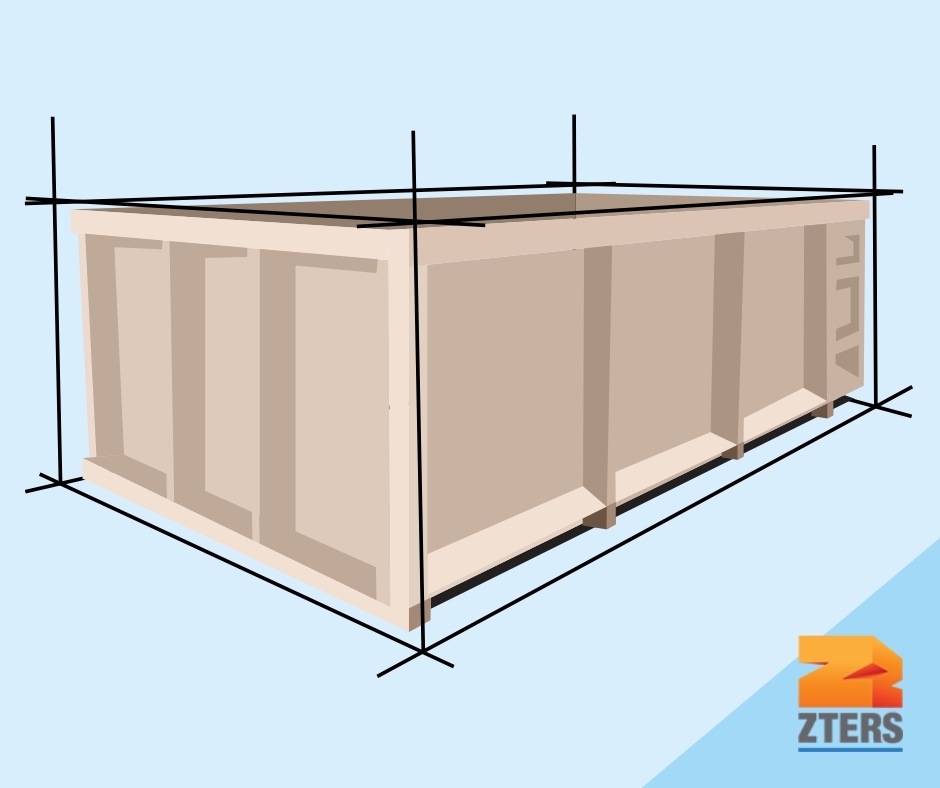 When it comes to waste disposal and managing debris during construction projects, home renovations, or outdoor events, a reliable dumpster rental is indispensable. However, not every dumpster is created equal for every project.
The dumpster size you need is not only going to be determined by the amount of waste you are disposing, but also what type of waste it is.
Choosing the right dumpster size can make all the difference in your project. An undersized dumpster can lead to frequent interruptions, hampering workflow and productivity, while an oversized one might inflate costs unnecessarily. On top of that, overfilling your dumpster can result in unforeseen dumpster rental fees.
So what size dumpster do you need for your project? We're breaking down the different sizes of dumpsters and their ideal usage to help you make an informed decision for your specific needs.
What are the most popular construction dumpster sizes?
Selecting the appropriate dumpster size is more than just a logistical consideration; it's a strategic decision that can profoundly impact the smooth progression of construction projects. 
Based on our decades of experience working with construction professionals, these are the most popular construction dumpster sizes.
*Keep in mind that exact dumpster features and specifications may vary by location and availability.
Ideal for small-scale projects, such as residential projects and minor landscaping
Typical dimensions: 13-feet long by 8-feet wide by 3-feet 6-inches tall
Accommodates 10 cubic yards of waste/debris
Perfect for disposal of heavy material such as dirt, brick, asphalt shingles, or concrete
One of the most popular dumpster sizes for small to mid-size construction projects or small scale home cleanouts
Typical dimensions: 22-feet long by 8-feet wide and 4.5-feet high
Accommodates 20 cubic yards of waste/debris
Most have a gate at one end with a swing radius of around 8 feet
Well-suited for estate cleanouts, larger remodeling, and roofing projects with larger debris like fencing or flooring
Designed for significant construction, demolition, or large-scale cleanout projects
Typical dimensions: 22-feet long by 8-feet wide by 6-feet high
Accommodates 30 cubic yards of waste/debris
Debris can be loaded on ground-level through side gate
Best for substantial waste production and sizable work areas
Used for major construction, industrial sites, and large-scale renovation projects
Typical dimensions: 22-feet long by 8-feet wide by 8-feet high
Accommodates 40 cubic yards of waste/debris
Best suited for projects generating massive amounts of debris
Additional Dumpster Sizes
You're typically not limited to the dumpster sizes listed above; those are simply the most popular. ZTERS offers a number of additional sizes for a dumpster rental solution tailored to your needs. Other dumpster sizes include:
Suited for small to medium-sized residential projects including landscaping
Offers more capacity than a 10-yard dumpster without taking up excessive space
Great for larger residential cleanouts or small remodeling jobs like kitchen or master bath renovations
Typical dimensions: 16-feet long by 7.5-feet wide by 4.5-feet high
Can accommodate 2-3 tons of bulky debris like sinks and cabinets
Strikes a balance between capacity and space efficiency
Rather uncommon, but available in some areas
Appropriate for home renovation or office retrofit projects with limited job space
Accommodates small, bulky debris like cabinets and drywall
Suitable for small- to mid-scale home/office renovations or small- to mid-sized construction projects
Provides ample space while remaining manageable for most locations
Ideal for home/garage cleanouts or construction projects with larger amounts of debris
More compact than standard 40-yard, but still offers large capacity
What to Consider When Choosing a Dumpster
With so many dumpster size choices, how do you know the appropriate one for your project? You can always reach out to a waste expert for insight. They'll help you make a decision based on the following elements.
Project Scope: Evaluate the scale of your project to estimate the volume of debris generated.
Available Space: Consider the physical space available for placing the dumpster on your property. The ZTERS app offers augmented reality that allows you to determine if the dumpster will fit in your location.
Budget: Larger dumpsters generally come at a higher cost, so balance your budget with your waste disposal needs.
Debris type: Certain dumpsters can handle types of debris that others can't, given their load capacity. Read up on what's not allowed in a dumpster and ask a waste expert about your specific needs.
Local Regulations: Check local regulations and permits required for placing dumpsters on public property.
How much space should you allocate for your dumpster?
A good rule for determining the room you need for a dumpster placement is to take the length and height of the dumpster size and double it. That way, you'll have plenty of space for the container as well as the truck to load and unload with ease.
For example, a 10 yard dumpster measures 13 feet long by 3.5 feet high. You'll want to ensure that your delivery area measures at least 26 feet long with a minimum overhead clearance of 7 feet. Also, ensure there is enough road clearance leading up to the worksite for the delivery truck to access.
We invite you to try out ZTERS augmented reality to help inform your decision.
Trust ZTERS With Your Dumpster Rental
Navigating what size dumpster you need is made simpler with ZTERS. As a trusted partner in waste management, we can help you select the right dumpster for your project. For dependability and unparalleled customer service, choose ZTERS for your dumpster rental!